5 Examples of IDT's Commercial Real Estate Marketing
Do you feel your commercial real estate marketing is stuck in the dark ages? Modern consumers are bombarded with information, so you must get noticed. That means using video and drone technology to show off your property.
Real estate marketing is becoming more and more innovative, so you must show that you're keeping up with the times. Check out these 5 examples of IDT's real estate marketing to get inspired to create breathtaking real estate videos to knock your potential clients' socks off.
Chicago Old Post Office
Chicago's Old Post Office Building in 2020 – Indoor Drone Tour
The Chicago Old Post Office is a massive property with all the space you could ever dream of and more. It's one of the finest parts of Chicago's history as it's over a hundred years old. Plus, it's a landmark that has been featured in many movies and TV shows.
If you're a fan of Batman and Optimus Prime, then the Chicago Post Office may be one place that you may know. The nearly century-old building served as both filming locations for these movies (including Dark Side Of The Moon) and an iconic fixture in downtown Chicago!
So it's easy to see that this is an iconic building.
However, in recent years, this historic building underwent massive renovations and to attract potential tenants into its office spaces.
That's where we came in.
IDT was contracted to produce a real estate video for the Chicago Old Post Office. We wanted to make sure that this video would be remembered by potential tenants forever, so we used drone technology to capture the Chicago skyline from every imaginable angle.
It's not every day that you get to fly a drone around Chicago, especially for this historic and cultural monument, so we felt it was important that we shared these amazing shots.
The result of our efforts is this beautiful real estate video that will leave a lasting impression on viewers.
The Robey Chicago Luxury Hotel Drone Tour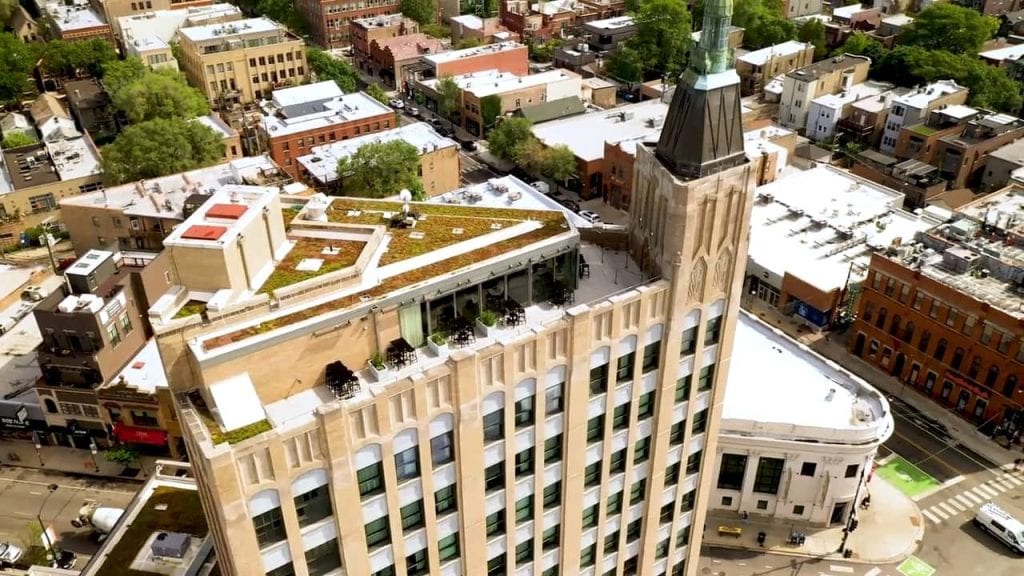 The Robey Chicago | Hotel Drone Tour
The Robey Chicago is a hip new hotel that has the most amazing views of the city and is a sight to see.
The hotel has been featured in magazines and online publications all over the world, and it's easy to see why.
With so much space and so many rooms, The Robey is an amazing place for business travelers and tourists alike. It's also perfect for events, as the space can be easily transformed to accommodate your needs.
The Robey contacted IDT to produce a real estate video of their hotel. We knew that a traditional video wouldn't do this property justice, so we decided to take our drone for a spin and capture some amazing hotel footage.
Not only did we highlight the well-decorated lobbies and rooms, but we also showcased the glamor and beauty of the ballrooms, restaurants, and outdoor spaces. From the rooftop patio to the pool areas and everything in between, we showcased every aspect of The Robey that makes it such a unique hotel.
The results are breathtaking, and we know that potential guests will be clamoring to book a room or indoor event room after watching this video.
Love showcasing your luxury hotels? Check out our hotel drone tours page.
Bank of America Building Drone Tour
110 N Wacker Building Drone Tour
The 55 story tower in Chicago, known as the Bank of America Tower was added to our city's skyline this past year. The 45 ft lobby and 16000 sqft fitness center make it an excellent place for banking needs while also providing some much-needed relaxation with the recently opened Riverwalk Cafe!
The building was designed by Goettsch Partners to be competitive among other tall buildings within its skyline context but also incorporate modern features such as sustainability strategies while maximizing views from all floors through extensive use.
With the use of real estate drone videos, IDT was able to show off all these features as well as capture the essence of the Bank of America Building. It gives you excitingly new viewpoints on high-rise buildings!
2222 RPB Office Drone Tour
Drone tours give prospective buyers an inside look at the amenities this campus has to offer. From 8 acres of private lakefront access and boardwalks, outdoor spaces for events or just relaxing in nature's beauty. 2222 RPB also provides boat docks so residents can take advantage of their scenic surroundings while traveling on land.
With commercial real estate drone videos, potential tenants and prospects can immerse themselves into both the interiors and the exterior of your property without ever having to leave their homes!
Showcase where your commercial or rental property is located, the neighborhood and its amenities, and what makes your building stand out from the rest with stunning drone footage.
Check out our commercial real estate video page for more inspiring examples!
PEC Chicago Before & After Drone Tour
PEC Chicago Before & After Drone Tour
Construction companies can also use drone video footage to show off their completed projects to prospective clients.
Seeing the before and after images or the transformative process of your projects can interest potential investors and stakeholders to engage with your company.
After several months of work, PEC Chicago was finally completed and ready for its unveiling.
With the help of IDT and our team of expert drone pilots, PEC was able to show off its starting point and the finished state-of-the-art building through the use of real estate drone videos.
No matter what type of real estate property you have, whether it's a house or an entire high-rise building such as the ones mentioned above, real estate videos are an excellent way to show it off in a matter of minutes.
So check out our construction video page now and see for yourself!
Ready To Book A Flight?
We at IDT believe that the possibilities are endless with the use of drones in real estate videos.
If you're interested in learning more about how drone video footage can help market your real estate properties, please don't hesitate to reach out.
We would be more than happy to discuss the possibilities with you and answer any questions you may have.