Indoor Drone Tours at Ryder Cup
The long-awaited Ryder Cup is back after last year's tournament was postponed due to the pandemic. While many golf fans tuned in to watch Team USA take on Team Europe at home, there was something special about this year's production. Did you catch any of the incredible FPV drone videos during the tournament this weekend? You might have seen some shots flying through the clubhouse or fantastic footage over the green.
The pilots at Indoor Drone Tours were ecstatic for the opportunity to fly the Whistling Straits before the big event.
"I'm a huge sports fan so filming at the Ryder Cup was awesome," John Bach, Creative Director at Indoor Drone Tours, says, "the creativity was flowing!"
In partnership with Midwest Aerial Productions, CEO Cody Retlich brought out the Indoor Drone Tours team to fly at the Ryder Cup.
"We couldn't have done it without Cody," John says, "he played a huge role in getting everything squared away and bringing us onto the production." 
"It's amazing to work with a team of people to get that perfect flight," Ilya Akhmerov, Head Drone Pilot at Indoor Drone Tours, says.
With golf's pre-eminent event taking place in Whistling Straits, Team USA had a home course advantage. An estimated 40,000 spectators came out to watch each day. To film at an event of this scale, a lot of preparation took place behind the scenes. 
Gear prep is always super important, especially for drone shoots. Ilya took a BlackMagic Cinema Rig for 5-7 test flights to ensure everything looked great for the final video. "It's important to be ready mentally," Ilya says, "I want to be as sharp as possible for the shoot day."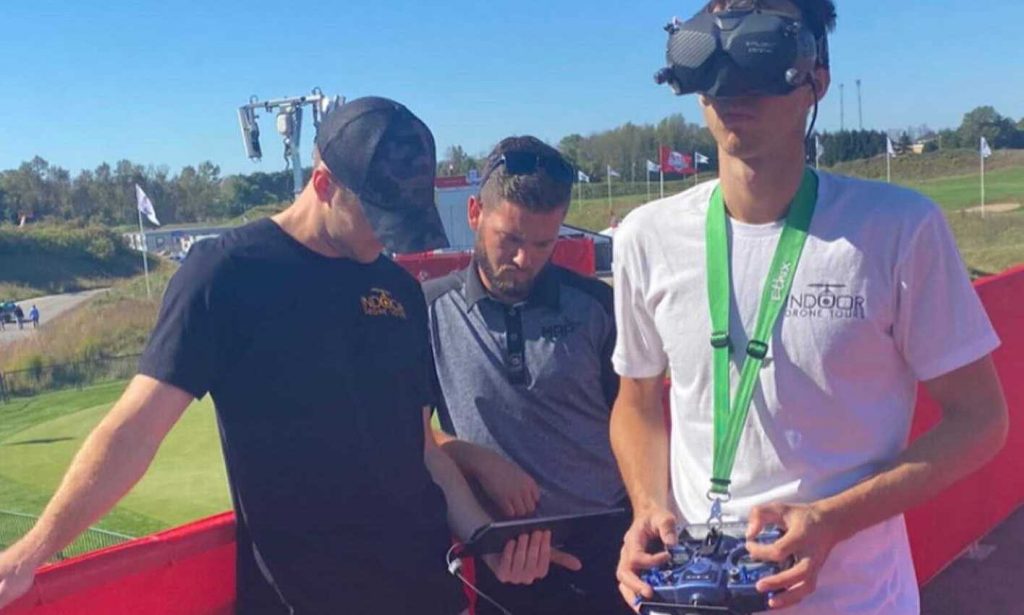 Drone Tours in Other Productions
FPV drones are becoming a standard tool for video marketing, offering a perspective that a ground camera cannot replicate. One-Take Drone Tours are stunning marketing pieces that captivate an audience. Other sports productions are beginning to film drone tours more often, as seen in the Hard Knocks documentary on HBO. In this documentary, the drone flies through the huge Dallas Cowboys campus.
Drones can offer a unique first-person perspective. For sports productions, it's an intimate view one usually couldn't get without being there.
For the Ryder Cup, the Indoor Drone Tours team got to see lockers rooms, the first tee, and everything in between while prepping and organizing the shoot.
"Seeing everything that goes into the Ryder Cup, it's amazing to be there before all the action starts." Zach Dulla, CEO of Indoor Drone Tours, says.

Ilya flew the drone for an impressive 3-minute one-take; in a first-person perspective, one could view the clubhouse, locker room, and tunnel to the first tee. It's as if someone was walking through the course. Drones are especially relevant today in giving virtual tours; the COVID-19 pandemic significantly increased the importance of a virtual experience. With last year's launch of Amazon Explore, it's apparent that virtual experiences will continue to complement the in-person experience.
Are you interested in learning more about our FPV drone tours? Contact Indoor Drone Tours to learn more and schedule your next drone tour.