How Linda Sold A $600K Home Sight Unseen
Buying a home sight unseen may have been viewed as risky in the past, but the changing industry has seen more sight-unseen offers than ever before…
With the coronavirus pandemic, viewing homes in person posed a new challenge. There was an increased need to be able to view new homes safely, without leaving one's home. With advances in technology and new services like Indoor Drone Tours for real estate professionals, buying a home remotely is more possible than ever before.
First, we have to understand why selling a home remotely is important in today's market.
Increase in remote buyers
House hunting online has grown immensely, especially during the coronavirus pandemic. In a RedFin-commissioned survey in December of 2020, Redfin surveyed more than 4,000 people who bought or sold a home in the last year and one of the questions asked, "Did you, at any point in your home search process, make an offer on a home you hadn't seen in person?"
About 63% of people searching for homes made an offer on a home they hadn't seen in person. That number is up from 32% a year earlier.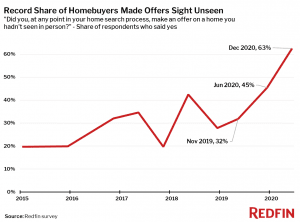 Redfin's chief economist Daryl Fairweather commented in her housing market predictions for 2021 that the number of Americans relocating will increase in 2021. "The increased use of [virtual tours], coupled with more people relocating, mean that sight-unseen trend will continue."
As younger homebuyers enter the market, that number will only increase. According to a survey by Clever Real Estate, 80% of millennials could be persuaded to buy a home sight unseen. New technology and millennials' trust in that technology, make it easier than ever to purchase a home remotely.
In a recent case, Indoor Drone Tours helped an agent sell a $600k home sight unseen to buyers that lived 700 miles away!
Case Study for Drone Tours: Home Sold Sight Unseen
In February 2020, a $600K home in Arlington Heights, IL was sold to a couple from Washington D.C. The most interesting part of the transaction… the buyers never stepped foot in the home; they saw it online and fell in love with the home after watching the drone tour.
Above: The drone tour that helped a couple decide on purchasing a home sight unseen, hundreds of miles away.
Linda Lincoln of Berkshire Hathaway Homeservices called Mitch McPherson, Sales Director at Indoor Drone Tours, to let him know about the drone tour's success. "I've been in the business 36 years, and never had one of my listings sell sight unseen," Linda said.
Linda also noted how impressed the buyers were with the drone tour. They commented on how they got the feel of the house and felt like they could live in the home. They even sent the drone tour to their family and friends to watch.
"As a virtual tour company, that's what we're all about," Mitch said, "especially in the pandemic, people couldn't even see homes in person".
Another individual who never stepped foot in the home? The buyer's real estate agent. "Their agent never saw the inside of the home, he never showed it to them, " Linda said. "He wrote the contract then showed up for the final walkthrough."
The drone tour not only showcased the home but also the surrounding area. The home was also steps away from a local park. Linda made it a point to include a shot of part of the neighborhood at the end of the drone tour. "I wanted the buyers to see they could get right to the park from there," Linda said.
By giving the buyers more information, they felt comfortable buying the home without being present. They had listing photos, some information about the neighborhood, and a first-person walkthrough of the home's interior and exterior. Having the option of viewing via virtual tour made this sale possible.
Using Virtual Tours for Home Walk-Throughs
In 2021 there are many options for virtual tours, whether it be zoom calls, drone tours, or 3D tour options. Virtual tours are becoming a common, useful tool in the homebuying process. Why are virtual tours so successful in helping a home sell remotely? They are digital open houses. They're available 24 hours a day to potential buyers. This can ultimately save time for agents, too! A virtual tour allows a buyer to see if a home's the right fit before contacting the listing agent. They can also be beneficial to the seller, who might appreciate less traffic in their home (especially in light of the pandemic).
Touring a home virtually can offer much more perspective than just listing photography. Drone tours, in particular, can offer more detail for a property's yard, size of rooms, etc. Drone tours also help show buyers the layout of the home with a first-person perspective.
"Our sellers love the end result and the buyers felt like their first showing was their second showing after seeing [the drone tour] first!" Kim Lawler & Katie Minott, of the Kim and Katie Group, commented after selling a listing marketed with a drone tour.
Soon, buying a home without seeing it first may become more common. With the increase in millennials entering the homebuying market, the need for digital tours is higher than ever. Especially with drone tour videos, it's entirely possible to convey the atmosphere of a home virtually.