5 Ways Drone Tours Are Better Than Your Current Virtual Tour
After March 2020, the number of real estate listings using virtual tours increased. Zoom calls, digital tours, drone tours, and 3D tours have all been used more in light of the coronavirus pandemic. With the ever-changing real estate industry, it's important to keep up with current trends and utilize whatever marketing tool possible. Up against all of the other virtual tour options out there, here's why we think drone tours are a cut above the rest.
No More Clicking, Pinching & Dragging With Drone Tours
With 3D Tours, there's a lot of user interaction required to view a home. There may be dozens of markers on the ground to manually click through. You may need to click and drag for the 360° view on each marker. Some markers might be redundant or may not show much about that particular section of the home. Turning around may require a ton of effort.
Nielsen Norman Group focuses on researching user experience in a variety of industries and settings. They presented a couple of problems that traditional 3D tours like Matterport posed.
One such problem included poor wayfinding. Users in the study frequently commented that they weren't sure where they currently were, or specifically which room they were viewing. While some tours used arrows or labels to depict where users will go, that may also add confusion to the experience.
PICTURE: The study showed a mobile virtual tour for the Van Gogh museum in Amsterdam. They noted that the arrows in a small space confused several participants. The tour was also a dizzying experience specifically for mobile users.
VIDEO: Nielsen Norman Group noted that the dollhouse view offered by Matterport initially excited users, but was ultimately a confusing method when navigating the space. When switching between dollhouse to the standard view, users would be placed against a wall and needed time to reorient themselves.
Moving from room to room was also an effortful affair. For example, the study noted a mobile-device user becoming frustrated when trying to turn around to go to another room. This user quoted: "For me to turn around and get out of [this room], that was 8 thumbs [referring to the number of swipe gestures he needed to turn 180°] […] Which is fine, but to explore a whole house in this kind of model is a little frustrating."
With drone tours, it's a more seamless virtual tour experience that keeps the user in mind. There's less effort to tour through several properties, and with that there's less clicking, pinching & dragging, swiping, etc. You just provide the finished drone video to your buyers, they click play, and they're flown from room to room without any confusion of where they are.
Drones Offer Ultimate Exterior Tours
Drone photography isn't new by any means but is a rising trend within the real estate industry. Before drones were more commonplace, the only viable option was to hire aerial photographers that used helicopters or small planes to take shots of a home while hovering above. Drones are a cheaper option and can essentially be used at a moment's notice.
It's difficult to capture all the details of a home's exterior using only ground photography. Any photos or videos captured from the ground might be limited in capturing the scale of a property. Drone photos can allow buyers to see the home from different angles and get a better idea of how big the home is. With aerial views, you can show off a lot of details about a home. Even in just a single frame, you can view the roof of a home, see the landscaping in the front yard, view how big the backyard pool is, etc.
It's rarely the case that a buyer is only interested in the property they're buying. From Coldwell Banker, it's stated that 8 in 10 Americans value the location of their home over the size (this is across all generations). Drones allow your buyers to get a better sense of the neighborhood and surrounding area. Is the home located on a several-acre lot, or tightly packed in a suburban neighborhood? Does the home have a rooftop deck, if so, what's the view like? Is the home located close to any points of interest in a city, is the home close to any shopping centers? Drone tours can provide all of these perspectives with just one click from the viewer.
Drone Tours Offer Creative Perspectives
We've already covered how drones can cover the exterior of a property, but what about the inside? Drones are unlike any other camera and offer unique perspectives you can't otherwise achieve. You can cover large areas, rooms with high ceilings, small spaces, and everything in between with an FPV drone.
Learn more about our FPV drone services!
It might take anywhere from a half-hour to an hour to tour an office building, hotel, warehouse, or retail space. With a drone tour, it will only take minutes. Whether it's a 2,000 sq ft home or a 2 million sq ft warehouse, drones can offer a seamless point of view. When a drone glides from room to room, you can also get a good idea of the property layout and floorplan.
Drone tours give potential buyers a unique viewing experience that can feel cinematic. One minute you're touring the neighborhood, next you're looking at landscaping in the front yard. Afterward, you're flying through the front door and gliding through rooms. In the hands of a skilled pilot, one could orbit chandeliers, fly through tight spaces in homes, or even fly through the Michael Jordan statue at Chicago's United Center.
VIDEO: This video shows an Indoor Drone Tour of an office space. If a Zoom call was used to show the space, the video might be shakey while going upstairs, and 3D tours might provide too many click points to ascend the stairs. The drone shows the height change quickly and seamlessly.
Learn more about our office building virtual tour services!
Drone Tours Can Feel Like A Proper First Showing
Sight-unseen offers seem to be a climbing trend with homebuyers. According to Redfin, 45% of surveyed homebuyers said they made a bid on a home without first seeing it in person. Daryl Fairweather, a Redfin chief economist, predicted that "by the end of the 2020 homebuying season, the majority of homebuyers will have made a sight-unseen offer," Fairweather said. "The pandemic has changed the way many people view homes, and on top of that, the market is highly competitive. If you aren't using this strategy, another buyer who is could beat you to the punch."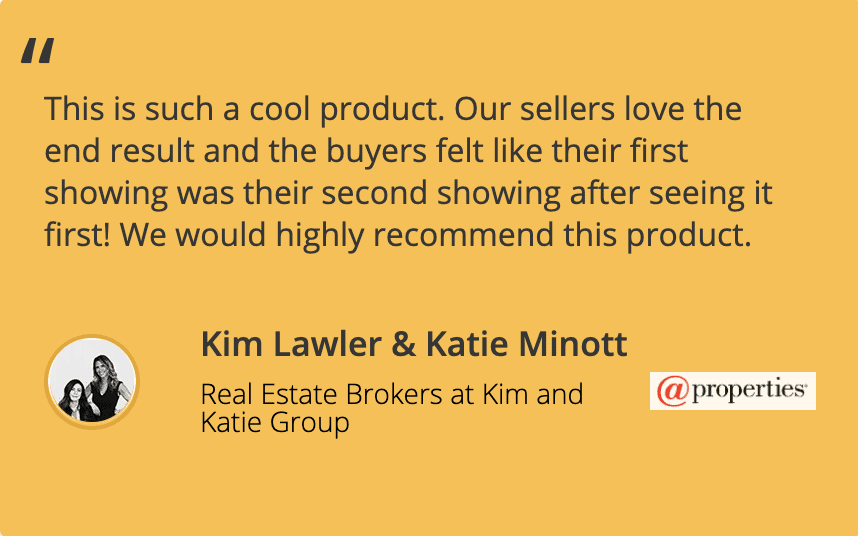 Some brokers like Kim Lawler & Katie Minott remark how drone tours let the buyers feel like their first showing was their second showing. Potential buyers can get a better sense of the home spatially via drone before deciding to see the home in person. This is especially important for homebuyers looking to relocate and buy a home remotely.
In one such case, a Chicago broker used a drone tour to sell a $600K home to a couple in Virginia. They were able to fall in love with the home simply because of the drone tour. The buyers were able to sign from across the country without even stepping inside of the home. Better yet, the broker didn't step foot in the house either.
Drone Tour Videos Are Easy to Use In Marketing
Creating an online presence is essential for success when marketing real estate listings. According to the National Association of Realtors, homebuyers who used the internet to search for a home increased to an all-time high of 97%. Video is one of the highest engagement rate mediums in digital marketing. With social media platforms like Instagram (IGTV and IG Reels), TikTok, YouTube, and Facebook, video content is more accessible than ever before.
With drone tour videos, there's no special plugin or software needed to share video files online. If you advertise online, drone tours can be shared easily through both desktop and mobile platforms.
With Indoor Drone Tours, delivering the final video is easy. Residential drone tours receive a branded file with your contact information and a non-branded video file with no contact information. There's also a hosted video link for use on the MLS. From there, adding the drone tour video to your website and marketing campaigns is a breeze.
It's important to note to never try flying your own drone inside! This can be hazardous and most drones are not meant to be flown indoors. Drones used to fly indoors are often custom-made with specific equipment and require special training to use. Use a reputable company that carries insurance and has FAA 107 certified pilots, like Indoor Drone Tours.
All in all, there are several ways realtors can use technology to market their listings. When it comes to virtual tours, drone tours remain supreme. They provide a full, seamless experience for the potential buyer. No extra clicking is needed. Drones show the outside and inside of a home within minutes. With the sheer versatility of drone tours, it may be the only virtual tour weapon you need in your arsenal.